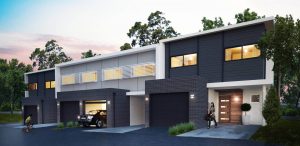 A rising market
One of the markets tipped to outperform the national market over the next decade is the growing city of Brisbane. Residential Property Prospects 2019-2022 reports have predicted that the Brisbane property market will be the strongest performing market over the coming years, growing by 20%.
Changing family structures
According to the ABS, families and households are changing. The proportion of family households has been declining. In the mid-80s, families made up 77% of Australia's households. In 2016, this figure dropped to roughly 70%. Over the same period, the number of single-person households increased from 19% to 24%. With smaller family structures, there's less need for a big backyard, and greater demand for affordable, low-maintenance homes.
An affordable alternative
Typically, townhouses provide a more affordable alternative to a detached house, with more indoor and outdoor space than an apartment, but without the cost and upkeep of a larger home on a big block. It's important to compare like for like when looking at prices, though. For example, it's hard to compare a brand new, architecturally designed townhouse with a 40 year old house that likely needs significant repair and renovation to get it up to a level that will attract a premium tenant or buyer.
Restricted supply
Recently, Brisbane City Council announced a proposal for a major change to their 2014 City Plan to stop the development of townhouses in low-density residential zones across Brisbane – despite continuing demand for this property type. The proposal is currently under review and expected to be implemented in mid-2020.
Lifestyle appeal
For the growing number of families wanting a backyard without compromising their 'lock up and leave' lifestyle, townhouses can offer the ideal solution. They're a low-maintenance option that still provide the backyard or entertaining space that families and professional couples seek, without the same amount of maintenance.